Health Department
SHRF Announcement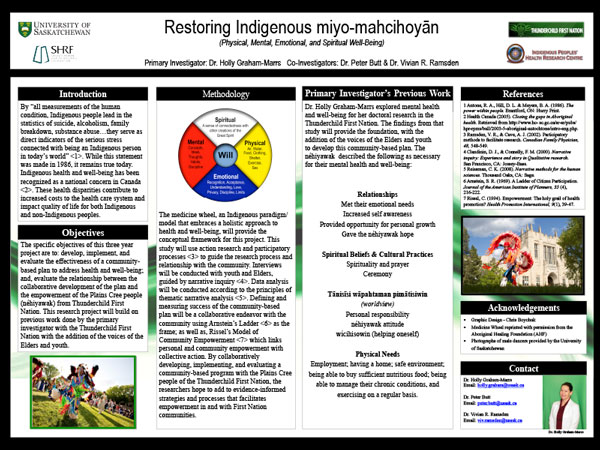 Research Project General Outline

Community Consultation Announcment

Timeline for SHRF Establishment Grant

SHRF Participant Consent

SHRF Participant Recruitment Letter
Contact Information:
Thunderchild Department of Health
Box 744
Turtleford, SK, Canada
S0M 2Y0

Phone: 845-4330
Fax: 845-2978
Mandate
To provide health services, daycare services, and youth, culture & recreation services to the membership of Thunderchild First Nation and other persons ordinarily resident on Thunderchild lands and to align with Thunderchild First Nation's vision, strategic planning, direction, and its reassertion of our treaty right to health to better serve the needs of the membership.
Vision
Under the guidance and protection of the Creator, Thunderchild Health will incorporate traditional and contemporary institutions in parallel to continuously improve our spiritual, physical, emotional and mental health & wellbeing of our membership.
Mission
To pursue self-sufficiency, and self determination where programs and services and partnerships are bridged and work collaboratively to support building healthy individuals, families, communities and the Cree Nation.
Values
Ma na chi to win (respect)
Tapwe at si win (honesty)
Sa ki to win (love)
So ke mo win (courage)
Ta pah tayi mo win (humbleness)
Ki se wa ti si win (kindness)
Wa ko to win (kinship)
Programs & Services
Aboriginal Diabetes Initiative
Brighter Futures/Injury Prevention
Building Healthy Communities-Solvent Abuse
Building Health Communities - Mental Health
Canada Prenatal Nutrition Program (CPNP)
Communicable Disease Control/Immunization
NIHB Community Dental Health Program
Oral Health Strategy
Community Health Services
Environmental Health-safe drinking water program
FASD
HIV AIDS
Home & Community Care- FNIH & INAC
Maternal Child Health
NIHB Medical Transportation
National Aboriginal Youth Suicide Prevention Strategy
Nursing Professional Education
NNADAP
Youth / Sport / Culture / Recreation
Awasis Nikan Youth Centre
The Ten Treaty Sticks
The First Stick represents the Treaty Agreement which was promised would last "for as long as the Sun Shines, the Rivers Flow and the Grass Grows"
The Second Stick represents the promise that the land used by the White people would only be the depth of a plough and nothing underneath.
The Third Stick represents a promise to provide for our people in place of the Buffalo.
The Fourth Stick represents the promise that Indians will continue to live way they have lived, by hunting. The wild life will belong to you because the Creator has left it as such.
The Fifth Stick represents the promise that the lakes, the water and the fish will be left for the Indian to use.
The Sixth Stick represents the promise of the fowl, the winged creatures will remain with you.
The Seventh Stick represent the promise that an Indian Agent (Indian Affairs) will be provided to help you.
The Eighth Stick represents a promise that you the people will get an education.
The Ninth Stick represents the promise that a Red Coat (Police Officer) will make sure that the Treaty Promises that we have made, are fulfilled.
The Tenth Stick represents the promise that the Indians would be provided with a Medicine Chest
(Elder JimKanepetew, Onion Cree Nation)